Warning: boring stuff ahead.
Spent the last two hours in an attempt to get the above graphics card in my decrepit laptop (Dell Lattitude D620) to work with Windows 10 so I could escape from 800x600 and get some work done on my nights this week. In the spirit of one of my favorite XKCDs, here is the solution as nobody else on any given website seems to have the faintest idea.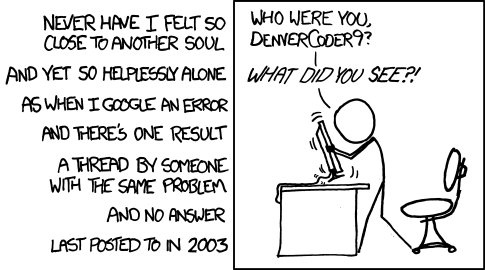 Things that don't work:
- Windows XP drivers from Dell website
- Any drivers from nVidia website (though I suspect that [url="http://www.nvidia.com/object/quadro_nvs_notebook_winvista_win7_64bit_179.48_beta.html"]these[/url] would have worked if it wasn't Dell's special version of the graphics card)
Things that
do
also don't work:
- The exceptionally well hidden Vista drivers on the Dell website. That are not linked to in 64-bit form from anywhere really, as far as I can see.
64 bit:
http://www.dell.com/support/home/us/en/ ... erId=37NX5
32 bit:
http://www.dell.com/support/home/us/en/ ... Id=R160485
(does Windows 10 even come in 32 bit?)
Installing and rebooting did absolutely nothing. Had to open device manager, right click the graphics card, and manually update the driver, pointing it to the directory the installer created when it was first run.
Works
beautifully
terribly, as just gives a black screen following a reboot. And a slight ongoing slight burning smell. Actual solution two posts down.
Sorry for tedium.